---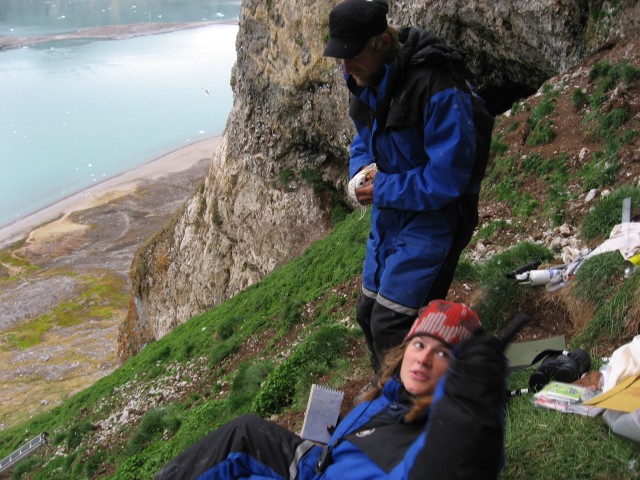 4 augustus 2007 16:41
Inez en Janik bestuderen drieteenmeeuwen op Brøgerhalvøya. We willen ook graag bloed van enkele drieteenmeeuwen en daarom gaan we bij ze op bezoek. Ze zitten boven aan een steile helling, die zwaar bemest is met stront van de kolonie. De drieteenmeeuwen nestelen waar de begroeide helling overgaat in een vertikale rotswand. Het regent er waterdruppels uit de rots en poep uit de nesten.
Drieteenmeeuwen vangen we met een hengel waaraan een lasso is gemaakt van nylon. Dat gaat erg gemakkelijk omdat de meeuwen erg goed stil blijven zitten. Daarna is het even zoeken naar de bloedvaten, maar Bas neemt mooie monsters met een spuit. Daarna doen we hetzelfde met twee kuikens, die Bas terugplaatst in het nest terwijl Janwillem de stoel vasthoudt.

Het bloed moet zo snel mogelijk naar het laboratorium. Het is een steile afdaling. Beneden zie je de boot liggen. Voor mij loopt Janwillem. Bas is als klein puntje te zien tussen de boot en Janwillem. We lopen ver uit elkaar want af en toe rolt er een losse steen de heling af.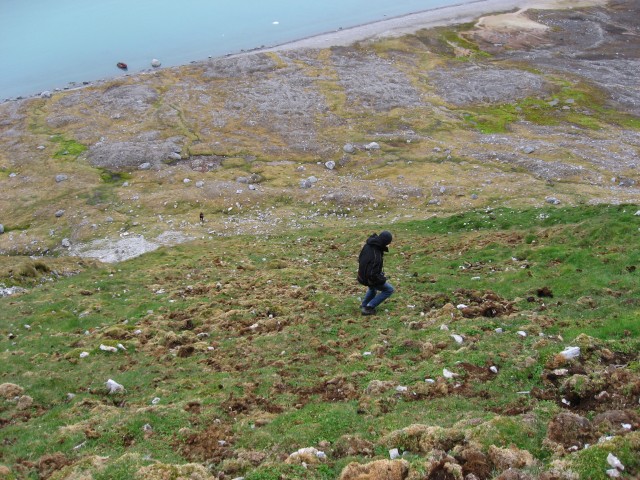 ---
pages with keyword drieteenmeeuw


No keyword selected!

Select a keyword from the list in the top right corner and press on the [search]-button.


---
select a new keyword

choose a keyword from the list in this box: